Coronavirus updates from the staff at myHealth
We are open and will remain open to provide care for young people.
April 23, 2020
New policy: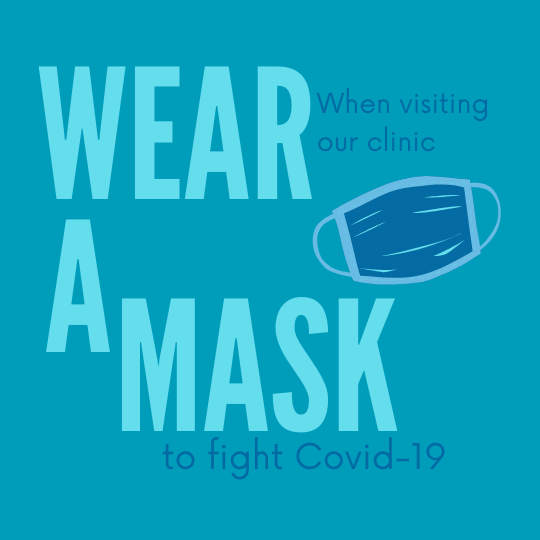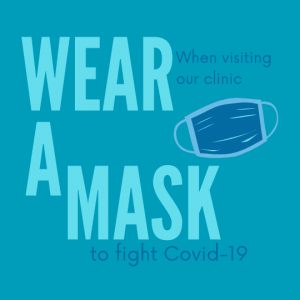 myHealth asks patients coming to our clinic to please wear a face mask.

If you do not have a mask, you may use a winter scarf, kitchen towel, or some sort of fabric from home. It should cover your mouth and nose.
This policy can help protect you, myHealth staff and the community.
Be well.
MyHealth care team
April 15, 2020
When it comes to COVID-19 be smart: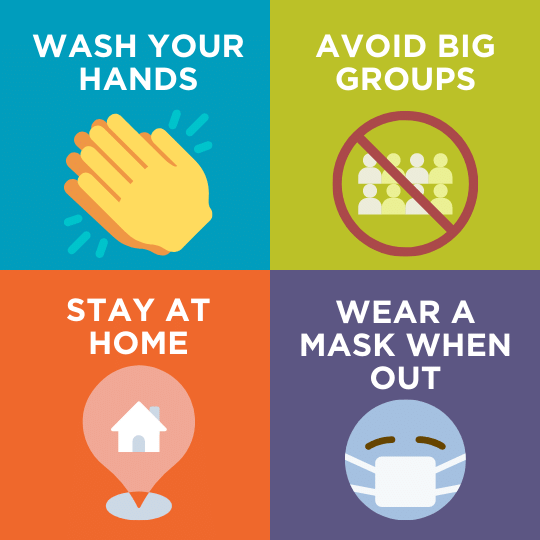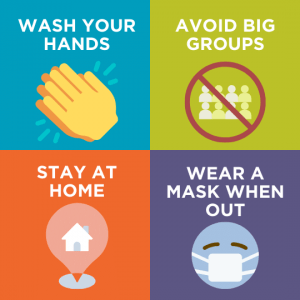 What if I think I might have COVID-19?
If you have questions or concerns about your symptoms, please call and talk with your primary care provider.  If you do not have a primary care provider call and talk with a nurse at myHealth For Teens & Young Adults (952)474-3251. A nurse at myHealth is happy to talk with you about your symptoms and is able to schedule you for a virtual visit with a provider.  Please do not walk into the clinic.  We are not seeing sick clients on site, and we are not able to test for COVID-19.
If you are sick, stay home until:
At least 3 days (72 hours) have passed since resolution of fever without the use of fever-reducing medications, AND
Improvement in respiratory symptoms (e.g., cough, shortness of breath or sore throat); AND
At least 7 days have passed since symptoms first appeared
Am I still able to get healthcare services at myHealth during the outbreak?
We are offering video visits to make it safer and easier for you to get the medical care you need during the coronavirus (COVID-19) outbreak.
A video visit is just like an office visit. You get the same personalized care, expert diagnosis and a treatment plan tailored to you. The only difference is that you're speaking with your doctor or clinician via video chat.
Before your video visit, you'll need to download Google Duo – a free, simple, encrypted, high quality video call app that works on Android and Apple smartphones, tablets and computers.
Some visits will require lab work, procedures or a pharmacy pick up.  When you call to schedule your visit a nurse will let you know if we need to see you in the clinic for your visit.
We are providing care for all in need, even new clients.  Call and schedule your appointment today. (952-474-3251)
Be well. Be safe.
myHealth care team
April 9, 2020
A note from Gerilyn Hausback, Executive Director:
Dear friends,
I want to share a little bit of reassurance surrounding myHealth's clinic operations during this nationwide health crisis.
First and foremost, I want to say thank you to our amazing team members for continuing to provide services to our clients and community. I know these days are strange, and we are all finding new ways to care for the people who need it most. Either through phone calls, virtual care, ZOOM, Doxy, face to face visits, or email exchange, we are all doing our best to make this new reality work. THANK YOU!
My job is to ensure that we have the financial resources necessary to support our clients. Know that I am pursuing any and all funds through any and all means and will continue to do so as opportunities arise.
All of these efforts are to ensure that we can continue to stay open and serve our community.
As always, please do not hesitate to send an email or call me.
Stay Safe. Be well.
Gerilyn
Executive Director
[email protected]
952.474.3251

April 6, 2020
For the safety of our clients, community, and staff, myHealth has made the following updates:
We will mail out birth control pills to clients homes. If it is not safe to mail them home, clients should call to request the prescription, and call again when they arrive at myHealth. We will leave the prescription in between the two front doors for pick up.
Clients that walk into the clinic for a refill without calling beforehand, will get checked in and the nurse will bring their refill out to them in the lobby.  They do not need to go back into the room with the nurse unless they have other needs.
We are asking that clients come alone, or with only one guest to their appointment.  If they show up with more than one guest, they will have to pick one person that is able to stay, all others will have to leave.
Per CDC guidelines, all myHealth clinic staff will be wearing masks.
Be safe.
myHealth care team
March 31, 2020
myHealth is still open for services. 
What we are doing:
We are deferring all unnecessary visits, but seeing youth for all other visits. 
myHealth DOES NOT test for COVID-19, and are asking all sick clients to stay at home. 
We are trying to do telehealth visits for both clinic and counseling when possible.   
myHealth has a new therapist, so there is no waitlist for mental health counseling right now. Please call us for an appointment!
We are complying with all CDC and MDH recommendations. 
Be well.
myHealth care team
March 25, 2019
myHealth for Teens & Young Adults is here to serve the young people of Hopkins, St. Louis Park and the western Minneapolis suburbs as we always have been. We are actively adhering to all Minnesota Department of Health and CDC guidelines.  Our highest priority is a safe and healthy environment for our clients and our staff.
OUR CLINIC IS OPEN AND WILL REMAIN OPEN to provide important services including immediate mental health care for young people struggling to cope in this ever-changing environment.
What we ARE doing:
We are still seeing clients by appointment during our regular business hours.
We are still seeing walk-in patients. We have however, added an extra layer of screening for walk-in patients prior to them entering our waiting room.
We have added telehealth options for many of our services.
We are still offering mental health counseling both on site and via telehealth.
What we ARE NOT doing:
We are not testing for COVID-19
We are not caring for patients with COVID-19 symptoms
While myHealth plans to remain open throughout this emergency, we do realize that we are in unchartered waters.  We want you to know that despite this we will continue to care for our young people whether they are insured, not insured, or underinsured.  No one will be turned away for lack of ability to pay.
myHealth is here for this community.
March 16, 2020
Dear Friends,
During this challenging time and rapidly changing situation with the Coronavirus, we want you to know that myHealth For Teens & Young Adults is carefully monitoring and actively adhering to all Minnesota Department of Health and CDC guidelines.  Our highest priority is a safe and healthy environment for our patients and our staff. Our strict sterilization and disinfection protocols continue to follow all CDC guidelines for infection control.
We will remain open at this time in order to provide care for our patients.
However, we do ask patients to reschedule their appointment IF:
You have traveled in the last 14 days to/from an affected area and have experienced symptoms such as fever, cough, or shortness of breath.
You have had exposure to individuals traveling from affected areas that exhibited symptoms.
You have had exposure to someone with confirmed Coronavirus.
You have symptoms of Coronavirus. Reported illnesses have ranged from mild symptoms to severe illness.
The following symptoms may appear 2-14 days after exposure:
Fever
Cough
Shortness of breath
If you're experiencing cold and cough symptoms and think you've been exposed to COVID-19, staying home and in isolation is the best way to protect yourself and others from exposure.
Please note that we are unable to test for the Coronavirus. There is a national shortage of coronavirus COVID-19 testing supplies. Because of this, the Minnesota Department of Health has recommended that testing for COVID-19 no longer be administered for patients who don't require hospitalization.
Thank you for helping us keep our patients, staff, and families healthy!  We look forward to seeing you at your next appointment, and thank you for trusting us with your health care.