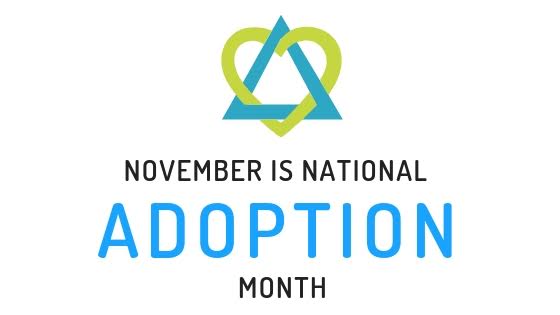 Happy #NationalAdoptionMonth!
The History of November being #NationalAdoptionMonth began in 1976 in Massachusetts when Governor Michael Dukakis announced an Adoption Week. This was then proclaimed as National Adoption Week by President Reagan in 1984. It was in 1995 that National Adoption Week's awareness and time span was expanded to an entire month by President Clinton. So, why spread awareness of and celebrate adoption?
Adoption is an important, beautiful, and viable option that many people in the U.S. choose as a way to start or expand their family(s). #NationalAdoptionMonth is a month that people use to celebrate and reflect on how their lives have been impacted by adoption. It also provides a platform for spreading awareness of adoption-related news and issues. With so many children in foster care and without families both in the U.S. and abroad, it is vital that people are aware of the need to adopt and that they know the appropriate information on how to become foster parents or how to adopt those children in need.
Statistics (Adoption Network)
428,000 children are in foster care in the U.S.

135,000 children are adopted in the U.S. each year

More than 60% of children in foster care spend 2-5 years in the system before getting adopted; many never get adopted

Nearly 100 million Americans have adoption in their immediate family

6 in 10 Americans have had personal experience with adoption

Around 7 million Americans are adopted

37% of adopted children are non-Hispanic white compared to 73% of adoptive parents that are non-Hispanic white

→

This means a large amount of children of color are adopted by white parents

→

these are known as transracial adoptions

The number of international adoptions has been on the decline as many countries become more restrictive with adoption

Today, almost 60%-70% of domestic adoptions are open adoptions
There are many different ways to celebrate #NationalAdoptionMonth. For those families and people who have chosen to adopt or who have been adopted, here are some ways to celebrate this month:
Tell the story of your adoption or your child's adoption to your family and friends or to your child.

Be aware of and plan a special event or celebration for the anniversary of your adoption. Many people refer to this anniversary as their "Forever Family Day".

Look into, share, and reflect on your or your adopted child's heritage.

Read a book or watch a movie that tells a positive adoption story or experience.

Write a thank you letter to the people who make adoption possible, like a social worker, an attorney, a judge, a foster care family, etc. This could be specific to those people who helped you, or to people who make adoption possible in general.

Spread awareness of your own unique adoption story on social media.

Connect with other families of adoption.
Not affected directly by adoption? There are still ways to celebrate and spread awareness!
Donate time and/or money to local organizations that support adoption.

Join local adoption-related events that encourage community participation.

Educate yourself and/or others about adoption and consider becoming a foster parent.

Read a book or watch a movie that tells a positive adoption story or experience.

Reach out to people in your life that have been affected by adoption to learn from their experiences and to affirm them.
One of the most important things to remember about adoption is that no two stories are alike. Each adoption story is unique and experiences its own triumphs and hardships. Some parents may struggle to adopt because of relational, emotional, legal, or financial challenges. Other parents may have the resources and privileges available for a more smooth experience. One thing is certain; both the adoptive parent(s) and the adoptee will likely deal with tough emotions and questions when the adoption takes place and throughout their lives. That is perfectly normal and there are endless amounts of families that can attest to differing adoption stories. Although adoption can prove to be challenging, it is still a great and selfless option!
Resources
The Becoming Program: This is a service of myHealth for pregnant and parenting teens. This program provides education, resources, and advocacy for any pregnant or parenting young person in need. As part of this program, nurses and caseworkers will work with the young person to give them the necessary care and information they need to empower them to make the best decision(s) for themselves and their baby. If a young person is unsure of what they want to do or would like to set up an adoption plan, the Becoming Program can help with that as well. The goal of this program is to give a young person the tools and skills to be healthy during and after a pregnancy and while parenting, if that is what they choose to do. To find out more about this service check us out online at: https://myhealthmn.org/becoming-program/  
For Parents Seeking to Adopt (MN):
For Adoptive Parents to Read to Their Adopted Child:
Tell Me Again About the Night I Was Born –

A little girl asks her parents to retell the story of her adoption and the night she was born.
The Mulberry Bird: An Adoption Story –

A Mother Bird is unable to care for her baby, so she creates an adoption plan to provide him with the future she wants him to have.
A Mama for Owen –

When Owen the baby hippo's mama is lost in a tragic tsunami, he becomes best friends with Mzee the tortoise, who becomes his new "mama." A new family begins after a painful loss.
Elliot –

A young rabbit in the foster care system goes through difficult and complex emotions, even though he knows his foster families love him very much. A social worker comes to help Elliot understand that he'll never be able to go back to his old home and helps his adoptive parents to understand what Elliot has been through.
For Adoptees:
Adoptees On

– A podcast where adoptees discuss their real life experiences with adoption; giving listeners a deeper understanding of adoption.

The Rambler

– A podcast where the host, Mike McDonald, holds candid interviews with adoptees from all around the world.

I Am Adopted –

A blog in which the author shares her take on dealing with trauma adoptees face during and after adoption.

No Apologies For Being Me –

A blog that is a resource for anyone coming to terms with their own adoption.

The Adoptee Survival Guide: Adoptees Share Their Wisdom and Tools –

30 adoptees share their voices and experiences to this book to provide support for other adoptees.

The Primal Wound: Understanding the Adopted Child –

This book has been referred to as the "bible" for adoptees as it discusses the lifelong effects of adoption.

http://adopteereading.com/

This website is full of books by and recommended by adoptees for other people affected by adoption
These are just a few of the awesome resources that exist! Anyone seeking resources or advice about adoption should check out the resources provided as well as seek out resources specific to their experience and needs.