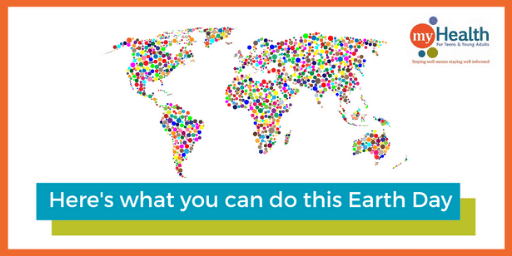 While we shelter in place for the pandemic, here are some creative ways to show up on April 22nd and spread some Earth Day 2020 love:
Limit orders from Amazon.
While it may be tempting to order everything you need from Amazon, these methods contribute to increased emissions of toxic greenhouse gases. Amazon orders put stress on our transportation system, calling for more trucks and air travel to deliver packages. The added stress promotes more emissions being added into the atmosphere. Instead, try posting on Nextdoor app to see if your neighbors have what you're looking for, or ordering from a local business. Many have added delivery in to their business models amidst the pandemic.
Neighborhood trash collection.
On April 22nd, walk around your neighborhood and collect trash to help clean up Mother Earth. Perhaps you could even organize a neighborhood clean up to add more hands. Don't forget to wear gloves, bring hand sanitizer with you, and maintain a 6-foot distance between yourself and others.
Start a compost.
Now is a better time than ever to learn how to start a garden or build a compost. Composting is great for the soil, promotes good bacteria and reduces the need for chemical fertilizers, which are detrimental to the environment. It also adds critical nutrients to your crops, so that your garden can thrive. Currently, the amount of food waste in our world is around 40%, meaning that we throw away large amounts of food, not to mention the copious amounts of water and resources food production takes. A compost helps turn your food waste in to something productive, putting those banana peels and table scraps to good use versus sitting in a landfill.
Many neighborhoods do not have personal compost bins available and often they are expensive to purchase. Need a project to keep you busy during the pandemic? Constructing a compost is very simple and maintenance is low. Check out this link to see easy DIY compost ideas for Earth Day 2020: https://homesteading.com/your-ultimate-guide-to-diy-compost-bins-for-homesteading/
Start a garden.
Gardening is a great way to grow your own food and help Mother Earth for Earth Day 2020. Gardening does a myriad of good things for the environment including: reduce soil erosion and runoff, reduce air and noise pollution, and reduce your carbon footprint. Plants take carbon dioxide out of the air and turn it in to oxygen for us to breathe, improving the air quality for you, your family, and your neighbors. Food grown and sold in supermarkets often comes from very far away, meaning it has to travel a large distance to get to you. If all you have to do to get your tomatoes is step in your back yard, you're helping to reduce transportation emissions. Garden plants also attract beneficial insects and pollinators to your garden, creating a healthy ecosystem for all the critters (including yourself!).
Learn how to make homemade products.
Many commercially sold products like laundry detergent and multi-surface cleaners have loads of chemicals in them that can be harmful to the environment. While you're stuck at home, why not learn how to make new products that are a bit friendlier? A simple way to make multi-surface cleaner is to use three parts water to one part vinegar or rubbing alcohol, along with some of your favorite essential oils (optional). Baking soda is a great option for home cleaning, especially bathroom toilets, sinks, and bathtubs. You can make homemade disinfectant wipes with paper towels or unused t-shirts, rubbing alcohol or vinegar, water, and essential oils (optional). Simply add the paper towels or cut-up t-shirt pieces and add them to a container along with one part alcohol or vinegar and one part water. Add essential oils to make them smell nice.
Visit earthday.org to donate to environmental causes or political movements and find fun tips for going green.
Pat yourself on the back for practicing shelter at home!
Satellite cameras have shown that the air quality has significantly improved during the shelter in place order because there are fewer folks driving and traveling by air. The earth is getting a real *breather!*
Be well.
-Emily H.