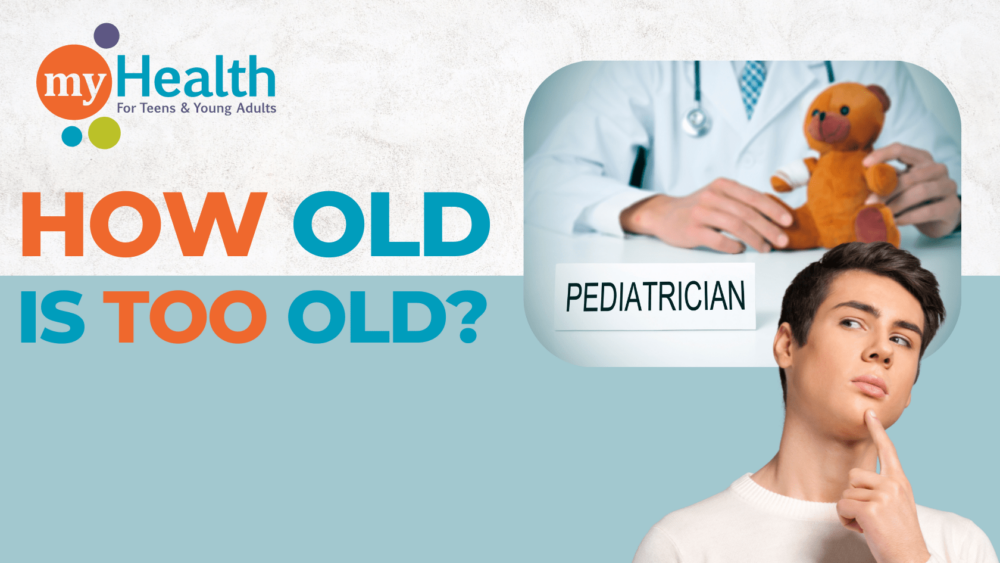 At the beginning of life, a child has their health care needs met by a parent or guardian who brings them to a pediatrician. But as they age, a child may begin to feel differently about keeping the same doctor they saw when they were a toddler.
Many pediatrician's offices are designed to make small children feel welcome. If you're 14 years old and surrounded by decorations and toys for someone half your age, you may feel like you're in the wrong place!
With each stage of life comes slightly different needs. As young people age into teenagers and experience puberty, they may want to keep some conversations with their doctor confidential.
When is it time to stop seeing a pediatrician?
If a young person wishes to remain with their pediatrician, they usually may do so until age 21; however, many young people begin to transition away from pediatricians after puberty.
One great option for those teens is an adolescent medicine specialist like myHealth for Teens and Young Adults. Adolescent specialty clinics are equipped not only to provide a welcoming environment, but know the challenges and needs unique to young people who are making the transition to adulthood.
Giving your child the tools to succeed
myHealth's mission is to improve the health of our community by providing health services and information that support all teens and young adults in making responsible and well-informed decisions.
Here are some ways we help prepare young people for the world of adult medicine:
Client-first care that empowers young people feel in charge of their health
Easy scheduling by phone or online
Judgment-free services, whether in primary, reproductive, or mental health care
Comprehensive education on medication and lifestyle choices
Low cost to free care for clients not using insurance
Staff trained as MNsure Navigators can help young people apply for insurance
myHealth sees young people to ages 12 to 26. Everyone who ages out of services at myHealth is sent off with information about transitioning to adult medicine, time with a nurse, and an opportunity to apply for health insurance.
We believe in going above and beyond in the field of adolescent care. We understand that young people are trying to navigate the world on their own, and we do everything we can to make that experience not merely an effective one, but a positive one.
Just as important as giving health care to young people is preparing them to continue caring for themselves as they gain independence. myHealth is proud to be one of many clinics to share the goal of informing young people in a way that empowers them to seek the care that is right for them.