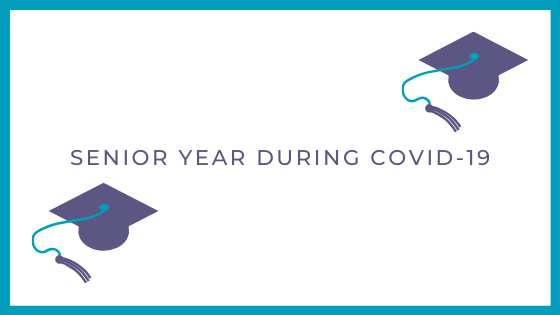 Guest Blog Post
Senior Year Reflections
It's so crazy to think how quickly this year turned out for the class of 2020. I never would have imagined that this would be how my senior year ends. Although the Coronavirus had been headlining news for a few months before schools shut down, it was impossible to believe that there would actually be a shut down. I just kept thinking, "stuff like this doesn't happen". And then, once we got the calls that school was off for an indefinite amount of time, I stayed positive and was sure we'd be back in a few weeks.
At first, it was kind of nice, especially since online school didn't start for me until a few weeks after school shutdown. Although it was a little boring, it was nice to have so much time to myself. I still was positive and had high hopes that the school year would eventually be back on.
Once it became clear the school year, including graduation and prom, were off, I began to cycle through feelings of disappointment, anxiety and dread. Some days aren't so bad, but it gets hard to not overthink everything when I'm stuck at home all day. All the news articles and stories of how people are being affected by the pandemic has me more worried about my future, jobs, healthcare and money more than ever.
In the beginning of school shutdowns, my biggest worries were about missing prom and graduation. Now, I don't care about either of those as much. Sure, it would be nice to have them, but now that I know I'm never going back to my high school as a student, I just don't feel like a high schooler anymore. My school, along with many others, are trying to plan to see if we could move our prom and graduation to dates later in the summer, but honestly, that seems a little far-fetched. Even if the events are able to be held later on, I doubt many of my classmates are even going to go. It would just be too weird, and most of us have already put high school behind us and have started to embrace being a college kid (and hoping that our college freshmen year doesn't get delayed).
Mostly, I miss seeing my favorite teachers every day. I miss seeing the cafeteria staff and having small conversations while they grabbed by food. I miss seeing the murals students painted on our walls. I know I would have missed all these things regardless of my year being cut short or not, but the fact that I never really got to say goodbye makes everything worse. As a freshman, I always thought about how sad it must be as a senior to be attending your last pep-fest, or even the last test you take as a high schooler. Now, as a senior, I didn't even get to know my last was my last.
Honestly, I still don't think I've fully processed that my year is done. I know that there are a lot worse things that are happening to people and senior year getting cut short isn't that bad in the grand scheme of things, but it certainly isn't how I wanted high school to end.
Srihita, Youth Advisory Board member